Hey Y'all
Thanks for taking the time to stop by and check out Sassy Since Birth! I'm Lindy an abstract artist and calligrapher based in San Antonio, Texas. I love combining bright colors and bold sayings in all of my artwork so you can feel just as sassy as I do. Have questions? Don't hesitate to reach out!
Shop All Products Here
Paint Something Pretty
Since the beginning every item in the shop has been painted by hand using highly pigmented paints in every color imaginable. It's these bright colors that provide the perfect background for every hand lettered item. 
Hand Lettered Art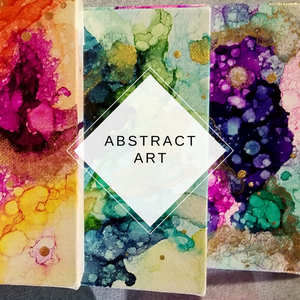 Lets Make A Mess
The same tradition of using bright colors and metallic elements are carried over into each abstract piece. The abstract line includes both acrylic flow paintings and alcohol ink home decor items.
abstract art
Something As Unique As You Are
The most amazing part about this business is the ability to create custom work for individuals and businesses. Seeing an idea come to life or hearing the story behind a particular saying is the best part of being an artist. If you have something in mind don't hesitate to reach out. 
Contact Us
What our customers are saying
Love her stuff! I have several pieces and was just gifted one last night!

Lika Torline
We attended SOFLO Market and couldn't leave without purchasing one of the hand lettered canvases!! We have the perfect place for it!

Jesse Meadows Patrick
Quality and creative work, love the art and the conversation with the artist!

EV Villa