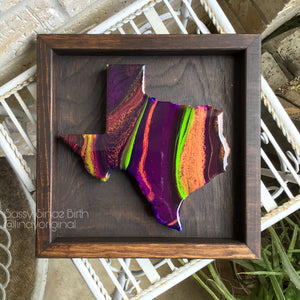 Bright pops of color are a continuous theme in every product and the abstract art collection isn't any different. The Texas pieces are all hand painted using an acrylic flow painting technique. Acrylic paint is thinned to a flow consistency creating unique shapes and patterns. These patterns are one of a kind and cannot be recreated making each piece as unique as the shape of Texas. 
Each acrylic flow painting is covered in resin for extra shine and durability. These abstract art pieces as big as your love for Texas. They are the perfect addition to any home and make a wonderful gift even if it's a gift just for you!
Size: 8X8 inch stained birch wood box with 6 in Texas cutout
Material: MDF
*****Due to the handmade nature of these products the colors and lettering might be slightly different than pictured. If you ever have a question don't hesitate to reach out!